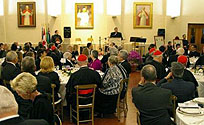 Pontifical North American College.
On April 30th, the annual Rector's Dinner was held at the Pontifical North American College supported, as customary, by the Knights of Columbus Foundation.

This year the College celebrates its 150th anniversary of its inauguration by Pope Pius IX in 1859 on the Via dell'Umiltà site. In 1953 the seminary was transferred to its current site on the Janiculum Hill, the building was designed and projected by Count Enrico Pietro Galeazzi.

The Order of the Knights of Columbus established the Count Galeazzi Fund, Director of the Rome Office for more than 60 years, to benefit the seminarians of the College in 1982.