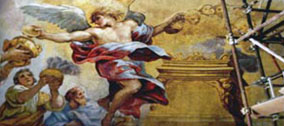 The dome is decorated with a mosaic depicting the mystery of the Eucharist, executed in the years 1656-1657 by the artists of the Study of the Mosaic Vatican on cartoons by Pietro da Cortona.

There are depicted angels and blessed that offer jars of perfume, symbolising the prayers of the faithful, kneeling around the altar of holocausts.

During the night of 10agosto 1992 is staccò dall'intradosso dome of a part of the decoration mosaic large, including the lower figure that's incenses the altar...