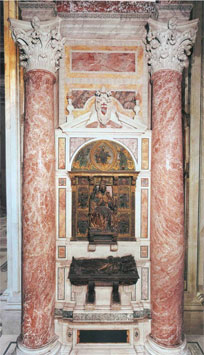 Supreme Knight, Prof. Carl A. Anderson, along with several Supreme Directors of the Order visited the Tomb of Innocent VIII (1484 – 1492) in the Vatican on Thursday, November 18, for the beginning of restoration works sponsored by the Knights of Columbus.

Today the only funerary monument to have survived from the ancient Basilica within the new Basilica, the bronze sepulcher of Giovanni Battista Cibo, born in Genoa in 1432 and Pope from 1484 to 1492 with the name of Innocent VIII, is located between the second and third bay of the southern nave.

The monument, by Antonio del Pollaiolo, who worked on it from 1492/1493 to 1497/1498, is made up of two parts: a first effigy of the Pontiff, defunct, lying on top of a sarcophagus ; a second image of Innocent VIII, seated on a throne in the act of blessing. To his sides, in imitation niches, there are the four Cardinal Virtues, while above him, a lunette frames the three Theological Virtues.